Data breaches are increasing with every passing moment. The prime motive of information hack is financial. It is evident from the latest data breach in Pakistan where almost all banks have been hacked. The news has shaken the industry because people are rapidly withdrawing their money from banks.

According to the reports, around 19,000 debit cards have been utilized so far in order to steal money. There is a heresy that 22 biggest banks operating in Pakistan are under the shadow of shocking cyber-attack. But, how the incident took place and who is responsible for such a breach?

Let's explore the news bit more!
What information we have so far?
On October 27, unusual transactions of around USD 2.6 million had been noticed at the Bank Islami. As a response, all international transactions were halted, and the State Bank was notified for such an incident. According to the global cybersecurity firm named Group-IB has confirmed that a group of cybercriminals cashed money.
Group-IB Report on Pakistani Banks Data Breach
The report released by the IB on Banks information breach discloses the creation of a dump on Jokerstash with the subject "PAKISTANWORLD-EU-MIX-01". It offered approximate 10,476 records on sale. Further, around 8,000 cards provided in the dumped have belonged to 9 leading Pakistani banks. The price of each was kept approximately $100-$135 per card.

It is suspected that the data breach occurred before the date 26-10-2018. Most of the cards were used by the cybercriminals to withdraw money from international networks of payment, and the rest were sold in the black market.
Which banks are affected?
The Threat Intelligence report of PakCERT revealed that the detail of approximately 19,864 debit cards had been stolen. These cards belong to almost all banks operating in Pakistan.  Shockingly, to date two rounds of debits cards selling in the dumb market have been accomplished successfully. Save your money by consulting your banks. Here are the lists: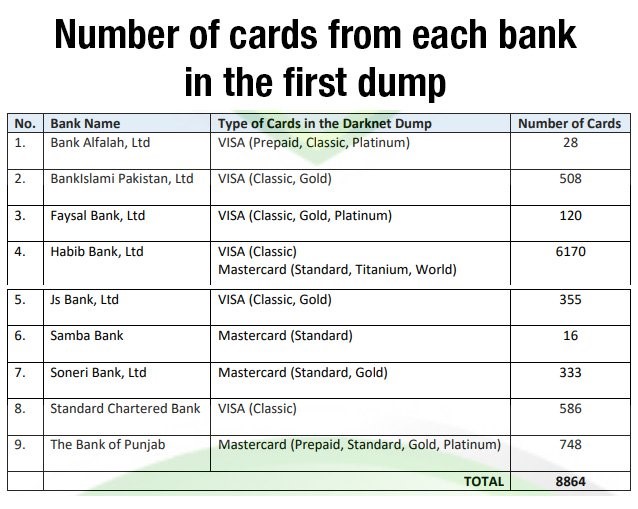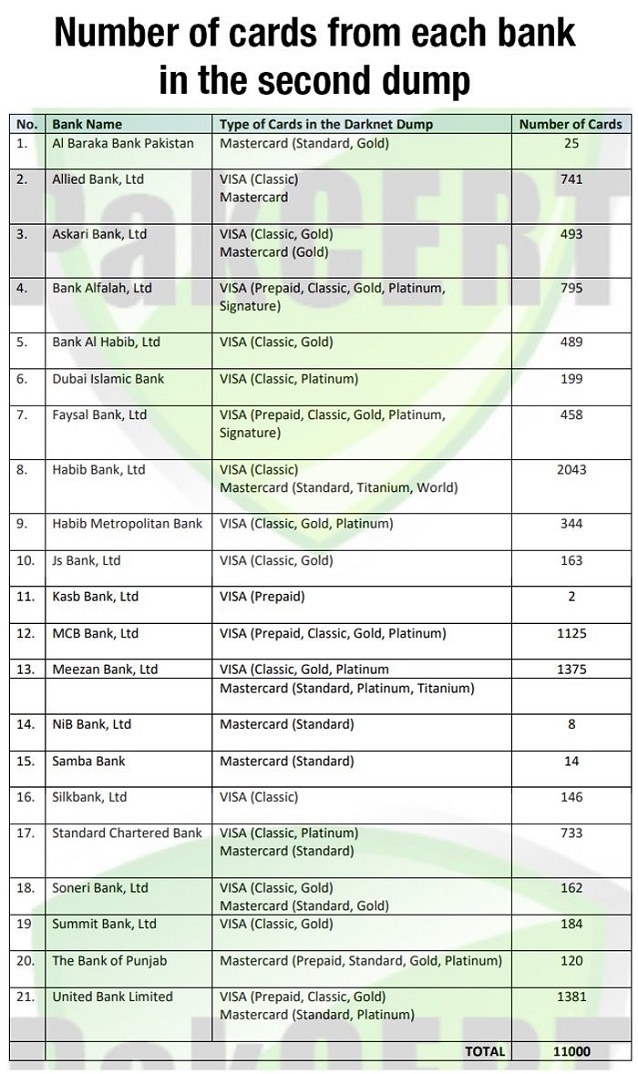 What to do?
The news of bank data breach has triggered a wave of shock and concerns among the people. To date, around 100 cases have been reported by the victims. The director FIA (retd) Capt Mohammad Shoaib confirmed that data has been stolen and exploited in different countries. However, the banks are hesitant to acknowledge the truth.

Nevertheless, it's a high time that banks should move towards endpoint detection and response (EDR) technology to ensure comprehensive monitoring and detection of threats.

In such a situation of utter uncertainty, it is imperative to ensure the security of your financial assets. You may ask for the precautionary assistance from your bank administration.  Further, beware of fake calls from the banks for ATM cards PIN code confirmation. Say no to insider data threats!